June 11, 2020
Texas Ranked Best State for Business for 16th Consecutive Year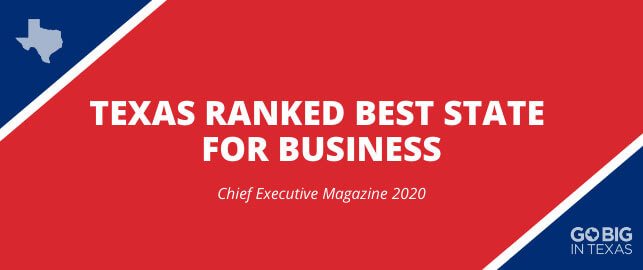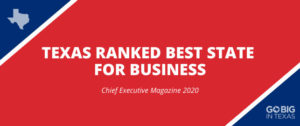 AUSTIN, TX – Texas has secured the No. 1 spot on Chief Executive Magazine's annual ranking of the Best and Worst States for Business. Texas has achieved the top spot every year since the ranking's inception.
The ranking reflects CEO perceptions of the best and worst states for business based on a range of key measures. The Lone Star State continues to dominate this annual survey thanks to its favorable business climate, low taxes, reasonable cost of living, and diverse and growing labor force.
"I thank the nation's top CEOs for naming Texas the best state for business for the 16th year in a row," said Governor Abbott. "Importantly, our economic success would not be possible without our tremendous job creators and our unrivaled workforce. Although these are challenging times for our nation as we face the COVID-19 pandemic, Texas remains committed to creating a business environment that fosters innovation, job creation, and economic prosperity."
More than 80 percent of a group of 200 enterprise leaders surveyed by business and technology consulting firm West Monroe Partners said that they are planning M&A activity in Texas within the next three years.
"The strong talent and employee base is leading to private equity clients moving and expanding in all the big cities in the state," said Adam Gersting, a senior director at West Monroe Partners.
Texas was followed once again in the rankings by Florida at No. 2, while Nevada jumped to No. 3, Tennessee fell to No. 4, and Indiana remained at No. 5.
About Chief Executive Group
Chief Executive Group, the leading community for business leaders worldwide, publishes Chief Executive magazine (since 1977), chiefexecutive.net, Corporate Board Member magazine and boardmember.com, as well as conferences and roundtables that enable CEOs to discuss key subjects and share their experiences with their peers. The Group also runs the Chief Executive Network, the leading CEO membership organization arranged by industry, and facilitates the annual "CEO of the Year," a prestigious honor bestowed upon an outstanding corporate leader, nominated and selected by a group of peers.
Source: Chief Executive Magazine