February 14, 2018
Greater Waco Chamber Wins Elevate Texas Award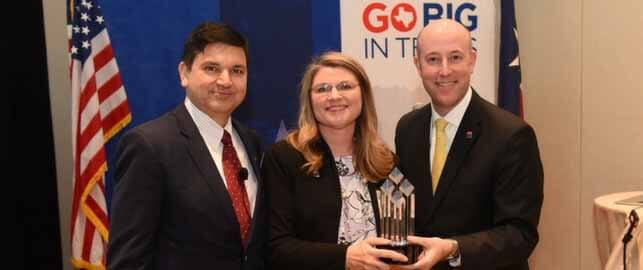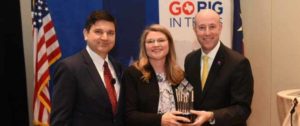 Statewide Honor Recognizes Economic Impact and Achievement
AUSTIN, Texas, February 14, 2018 – Greater Waco Chamber was honored yesterday with the presentation of the "Elevate Texas" award by the Texas Economic Development Corporation, the organization that markets the state as one of the world's top locations for business.
The statewide award recognizes communities, organizations and companies that are making a powerful contribution to Texas' economy, whether through jobs and investment, infrastructure and workforce development, or other initiatives which help to drive growth in the Lone Star State.
"Greater Waco Chamber is a prime example of the strength and ingenuity of economic development in the State of Texas," said Robert Allen, President and CEO of Texas Economic Development Corporation. "We're grateful for their partnership with Texas Economic Development Corporation and for their work to bring jobs and investment to the state."
Greater Waco is home to five colleges and universities, including the nationally-ranked Baylor University and Texas State Technical College, which are fueling a workforce pipeline to support investment by major companies. On February 5, 2018, Mars Wrigley Confectionery U.S., part of the world's largest manufacturer of chocolate, confections, gum and mints, announced plans to invest $30 million in its Waco, Texas operations with a 65,000-square-foot product distribution expansion. The company currently employs 600 associates in Waco, where it has been operating since 1976.
Allen, who attended the groundbreaking, said of the expansion: "When global companies like Mars choose to invest in our communities, it's a testament, not only to Texas' business-friendly climate, but also to the effectiveness of innovative organizations like the Greater Waco Chamber."
Since 2015, the Greater Waco region has seen the announcement of nearly $400 million in new industrial investment and the creation of 1,375 new jobs. Included in that growth is another recent investment from The Coca-Cola Co., which announced plans in January 2018 to invest $25.5 million in partnership with fairlife, LLC to begin producing milk products at the soft-drink giant's juice plant in Waco. The expansion involves the retention of 331 employees and the addition of 10 jobs.
"I am honored to accept this award on behalf of the Greater Waco Chamber and the local and regional partners working to drive growth in our community," said Kris Collins, Senior Vice President, Economic Development. "Recognition at the state level—and investment from the likes of Mars and Coca-Cola—underscores that Greater Waco is a force to be reckoned with as a place to do business, live and visit."
The Elevate Texas award was presented to the Greater Waco Chamber's Kris Collins at the quarterly meeting of the investors of Texas Economic Development Corporation, which include corporations and economic development organizations from across the state.
About Texas Economic Development Corporation
Texas Economic Development Corporation is an independently funded and operated 501(c)(3) nonprofit organization dedicated to economic development, business recruitment and job creation in the State of Texas. The public-private partnership coordinates efforts with the Office of the Governor to market Texas as a premier business destination and let corporate decision makers and site selection consultants know that they can Go Big In Texas. For more information about Texas Economic Development Corporation, visit Texas Economic Development Corporation.