July 24, 2018
Texas Earns Five No. 1 Rankings in Business Facilities' 2018 State Rankings Report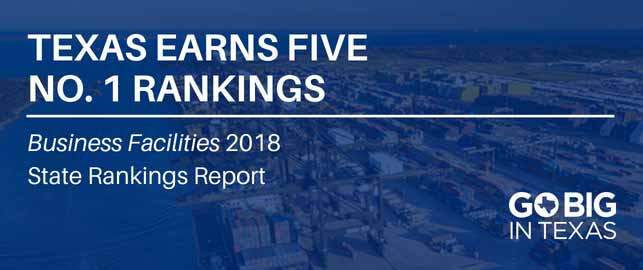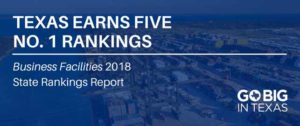 The Lone Star State was ranked among the best of the best after receiving five No. 1 rankings and 48 top-10 spots in Business Facilities' annual State Rankings Report
Texas secured the No. 1 spot in five different categories in Business Facilities' annual State Rankings Report. In addition to receiving these top-notch scores, Texas secured 48 top-10 titles. Business Facilities' rankings demonstrated Texas' strength in a variety of industries and established the state's global role in trade and investment.
Among Texas' most notable No. 1 rankings were Foreign Direct Investment (FDI) and Foreign Trade Zone (FTZ) Activity. Texas' strong ports and 32 designated FTZs have allowed the state to lead the nation in exports for the past 16 consecutive years. That, coupled with its central location and access to domestic and global markets, establishes Texas a leading location for trading and exporting goods. The Lone Star State's unmatched FDI is thanks in part to the state's ideal business conditions, talented workforce and strong economy. Foreign investment in Texas positively contributes to the economy by creating new jobs, encouraging collaboration between companies and inspiring innovation.
The Lone Star State also showed promise in several industry-focused categories, earning a No. 2 rank in Chemicals Manufacturing and a No. 3 rank in Bioscience and R&D. Each of these rankings shed light on Texas' prominent biotechnology and life sciences industry.
Source