May 2, 2018
Texas Ranked No. 1 for 14th Straight Year in Chief Executive Magazine's Annual CEO Ranking of Best & Worst States for Business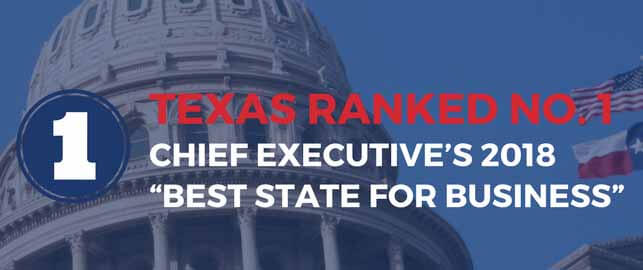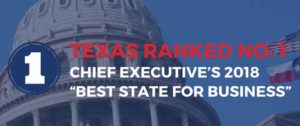 Rated No. 4 in Workforce Quality and No. 3 in Taxes & Regulation Categories
STAMFORD, Conn., May 2, 2018 – Texas was ranked as the No. 1 state for business for the 14th straight year in Chief Executive magazine's 14th annual Best & Worst States for Business survey, which was released today. The Chief Executive rankings reflect CEO perceptions of best and worst states based on a range of key measures.
Texas has held the No. 1 spot for each of the 14 years since the inception of the Chief Executive survey, thanks to its extremely business-friendly environment, high-quality workforce and attractive living opportunities. Florida (No. 2), North Carolina and South Carolina (tied at No. 3) and Indiana (No. 5) rounded out the top five states. Full results and additional information can be found on ChiefExecutive.net, and in the May/June issue of Chief Executive.
The Best & Worst States for Business survey captures the perceptions of CEOs on a range of important issues. The rankings are crucial, as CEO perception drives investments in offices, factories and other facilities that bring jobs to a region. This year 300 CEOs participated in the survey.
"CEOs are the key decision-makers that decide when and where companies create jobs," said Chris Chalk, publisher of Chief Executive magazine and ChiefExecutive.net. "This year's survey shows that business-friendly policies have a direct impact on the reputation of each state, ultimately determining which states thrive."
In addition to the overall state rankings, Chief Executive's 2018 Best & Worst States for Business survey also presents individual category rankings, including workforce, taxes/regulation and living environment.
Texas' rankings in key categories include:
Workforce quality: No. 4
Taxes and Regulation: No. 3
Living Environment: No. 9
Chief Executive Best & Worst States for Business
Best 5 States
1. Texas
2. Florida
3. North Carolina (tie)
3. South Carolina (tie)
5. Indiana
Worst 5 States
50. California
49. New York
48. Illinois
47. New Jersey
46. Connecticut
Source