June 16, 2020
Texas Takes Home the Gold Shovel Once Again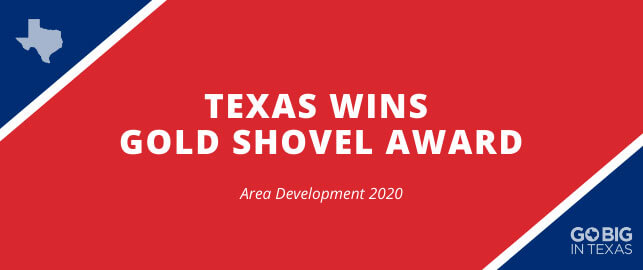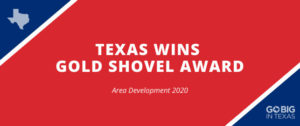 Area Development has announced its annual Gold and Silver Shovel Award winners for 2020, with Texas claiming a Gold Shovel.
The annual Gold and Silver Shovel Awards recognize states for their achievements in attracting high-value investment projects that will create a significant number of new jobs in their communities.
The awards are based on a combination of factors, including the number of new jobs to be created in relation to the state's population, the combined dollar amount of the investments, the number of new facilities, and the diversity of industry represented. The 2020 awards are based on the top 10 job creation and investment projects from each state that were initiated in 2019.
The Gold Shovel honoring Texas was powered by several projects with four-digit job promises. The biggest was the plan from Apple to boost its already impressive presence in Austin with at least 5,000 new jobs.
In addition, JP Morgan Chase & Co. began construction on a 12-story office in Plano in 2019. This $106 million project promises 4,000 jobs. Allstate, meanwhile, is creating 1,300 jobs at a major, $11 million expansion in Irving.
As for the IT sector, Uber last year opened a new Dallas site that eventually could provide work for 3,000 people, although construction has been paused due to COVID-19. Job-search service Indeed promised 3,000 new jobs in Austin, including a high-rise slated to be named Indeed Tower.
Texas received this award for the 12+ million population category. The four other Gold Shovel winners for their respective population categories are Virginia, Tennessee, Utah and Mississippi.
Texas has won a Shovel Award in each of the 15 years since it began. This is Texas' eighth Gold Shovel Award.
Source: Area Development