October 25, 2019
Governor Abbott Announces Expansion of Microsoft Regional Hub in Irving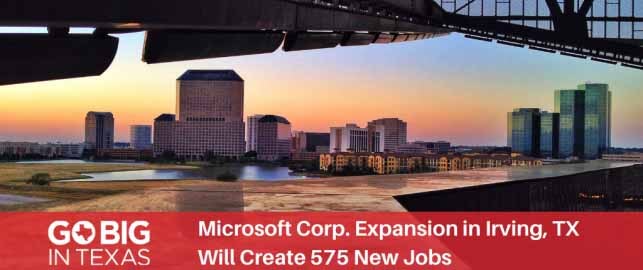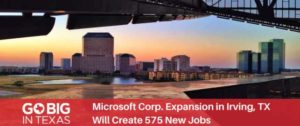 Austin, Texas – Governor Greg Abbott today announced that Microsoft Corp. will expand its operations in Irving, Texas, further establishing their Las Colinas site as a strategic regional hub in the area.
"Today's investment by Microsoft is further evidence of Texas' rise as a global technology hub," said Governor Abbott. "Thanks to our world-class workforce and common-sense, free market economic model, companies like Microsoft are investing in the Lone Star State and creating high-paying jobs for hard-working Texans. I thank Microsoft for their continued investment and will continue to promote policies that expand these beneficial partnerships and bring more jobs to the Lone Star State."
"Microsoft has been in Texas for more than two decades. We have a robust workforce here already and we are excited to continue growing that – expanding our talent base and opportunities in North Texas," said Raamel Mitchell, Microsoft Las Colinas campus director. "We look forward to being here for our customers and helping them through their digital transformation journey from our Las Colinas campus."
"We are excited that Microsoft has renewed its commitment to Irving-Las Colinas and believe it's a testament to our business-friendly climate and high quality of life for companies and their employees," said Irving Mayor Rick Stopfer. "As a valuable corporate stakeholder in our community, we look forward to working with Microsoft as it builds it workforce and creates thousands of valuable technology jobs in Irving."
"Microsoft's expansion of its workforce and investment into its corporate campus represents the type of project we're actively recruiting to add to our already thriving business community," said Beth Bowman, President & CEO of the Irving Economic Development Partnership. "The successful retention of this target industry demonstrates that Irving-Las Colinas is one of the world's premier business destinations. We look forward to supporting Microsoft, its employees and future workforce as they integrate into our diverse community with attractive amenities and a high quality of life."
As part of this expansion, Microsoft will create 575 new jobs and invest more than $31 million in capital. A Texas Enterprise Fund (TEF) grant of $4,874,850 has been extended to Microsoft Corporation.
Source