March 26, 2018
Governor Abbott Closes Landmark Deal with JSW Steel (USA) Inc. To Develop Local Steel Industry in Baytown, Texas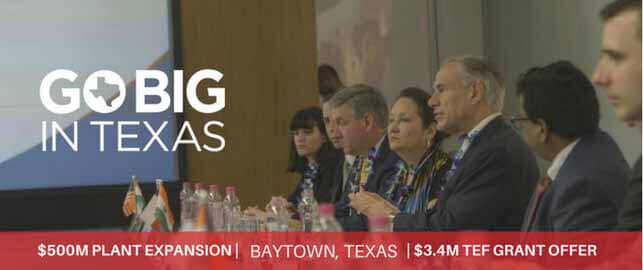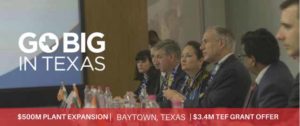 Governor Greg Abbott today visited JSW Group Global Headquarters in Mumbai, India, and signed a Memorandum of Cooperation to develop and augment the steel industry in Texas. With this agreement JSW Steel (USA) Inc. has agreed to consider an investment of $500 million in phases in developing its steel manufacturing infrastructure in Baytown, Texas. This investment will be used to expand the company's Plate & Pipe Mill unit. A Texas Enterprise Fund (TEF) grant offer of $3.4 million has been extended to JSW Steel (USA) Inc.
"JSW's motto is 'Better Everyday,' and that's the same approach we take in Texas," said Governor Abbott. "The $500 million investment from JSW Steel to expand its operations in Texas shows what we can achieve when we work to be better every single day. Made in Texas is a powerful label, and I thank JSW for investing in our great state. We look forward to forging an even stronger partnership and continuing economic and job growth in the Lone Star State."
"The Memorandum signed by Greg Abbott and JSW USA is part of our long term strategy to enhance our U.S. footprint," said Mr. Parth Jindal of JSW Group. "It reiterates our commitment to stay invested and grow in the U.S. market. It also provides JSW USA an opportunity to participate in USA's infrastructure development and job creation priorities. Access to natural gas at extremely economical prices and the abundant availability of scrap steel in Texas make conditions very conducive for manufacturing through the Electric Arc Furnace route. JSW Steel (USA) Inc. wishes to create a world class fully integrated steel complex that will bring precision manufacturing of high quality steel plate and pipe to Texas, USA."
JSW USA operates one of the widest steel plate & pipe mills in North America. Strategically located in Baytown, Texas the unit services the needs of the energy, petrochemicals, defense and other heavy equipment industries in USA who need high quality carbon plate.
About JSW Steel: JSW Steel is a part of the diversified US$ 12 billion JSW Group, which has a presence in Steel, Energy, Infrastructure, Cement, Ventures and Sports. JSW Steel is the leading integrated steel company in India with an installed steel-making capacity of 18 MTPA. JSW Steel's plant at Vijayanagar in Karnataka, is the largest single location steel producing facility in the country with a capacity of 12 MTPA. JSW Steel (USA) Inc is a subsidiary of JSW Steel Ltd.
---
Read more about India's foreign investment in Texas.