September 23, 2019
Governor Abbott Meets with Aisin Seiki Co., Ltd and Aisin AW Executives in Nagoya, Japan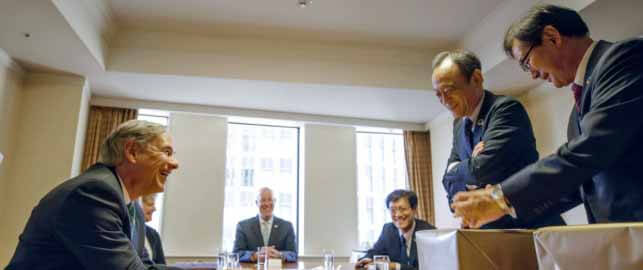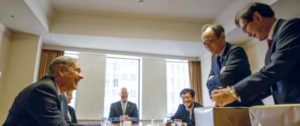 Governor Greg Abbott today met with several executives of Aisin Seiki Co., Ltd and Aisin AW in Nagoya, Japan. Governor Abbott thanked them for their recent investment in Cibolo, Texas, and discussed strengthening business ties between the Japan-based company and the Lone Star State.
Aisin AW recently partnered with Toyota to announce a nearly $800 million combined economic development package, with Aisin investing $400 million toward a future manufacturing facility that will bring 900 jobs to the city of Cibolo, Texas. The company is a supplier for Toyota and will produce automotive transmissions at the facility.
"I am grateful to Aisin for their warm welcome, and I enjoyed discussing their recent investment in the Lone Star State," said Governor Abbott. "Aisin AW is playing a vital role in bringing more jobs and innovation to the state of Texas, and I look forward to growing our partnership in the years to come."
Aisin Seiki Co, Ltd. is a Japanese corporation that develops and produces components and systems for the automotive industry and manufactures auto transmission parts for Toyota vehicles. Aisin AW Co., LTD., a brand of the the Aisin Seiki company, was established in 1969 and is headquartered near Nagoya, Japan. The company develops, manufactures, and distributes automatic transmissions, hybrid systems, car navigation systems, and other automotive parts.