September 24, 2019
Governor Abbott Tours Toyota Assembly Plants, Meets with Toyota President Akio Toyoda in Toyota City, Japan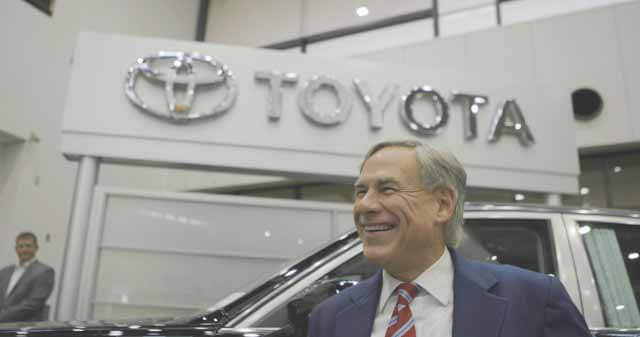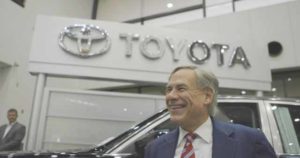 Governor Greg Abbott today toured Toyota Motor Corporation's Kaikin and Motomachi assembly plants in Toyota, Japan. Following the assembly plant tours, Governor Abbott met with Toyota President Akio Toyoda. During this meeting, the Governor thanked Mr. Toyoda for welcoming him to Toyota City, discussed strategies to further expand the company's footprint in the Lone Star State, and received an update on Toyota Motor North America, Inc., headquartered in Plano, Texas.
"I am grateful to Mr. Toyoda and Toyota's leadership for their warm hospitality during my visit, and enjoyed discussing potential opportunities for further investment in the Lone Star State," said Governor Abbott. "Toyota has played a pivotal role in Texas' economic success, and I am thankful for the thousands of jobs and billions of dollars in investment they have brought to our great state. I look forward to growing our partnership with Toyota and bringing even more innovation and investment to Texas."
Toyota Motor Corporation is a Japanese multinational automotive manufacturer. Toyota was established in 1937 and is headquartered in Toyota City, Aichi Prefecture, Japan. The company has had a presence in the United States for over 60 years and has directly invested over $27 billion in the U.S. Toyota has more than 50 manufacturing companies globally, including in Texas. In 2014, Toyota Motor North America, Inc. announced it would relocate its headquarters from Torrance, California, and consolidated other operations from, New York City and Erlanger, Kentucky, to Plano, Texas. The facility broke ground in January 2015 and the grand opening took place in July 2017. Toyota's Texas operations support over 10,000 local jobs including on-site suppliers. On September 17th, Toyota and Aisin AW announced a combined nearly $800 million economic development package, with Toyota expanding their presence in Texas through an additional $391 million investment for its San Antonio truck assembly plant.
Akio Toyoda is the President and CEO of Toyota Motor Corporation (TMC). He holds a law degree from Keio University in Japan and an MBA from Babson College in the U.S. His career has included postings in every phase of automotive operations, including production, marketing, and product development. He served as an executive vice president and board member at New United Motor Manufacturing, Inc., Toyota's production joint venture with General Motors in California, starting in 1998. In 2000, he was named to TMC's Board of Directors in Japan. In 2001, Mr. Toyoda became the chief officer of the Asia & China Operations Center, and then in 2002, he assumed the position of managing director. In 2003, Mr. Toyoda was made a senior managing director, and in January 2005 he became chief officer of both the China Operations Group and the Asia, Oceania & Middle East Operations Group. In June 2005, he became an executive vice president and a representative director. In June 2009, Mr. Toyoda became president of Toyota.