July 29, 2020
Lone Star State Tops the Charts for its Superior Business Climate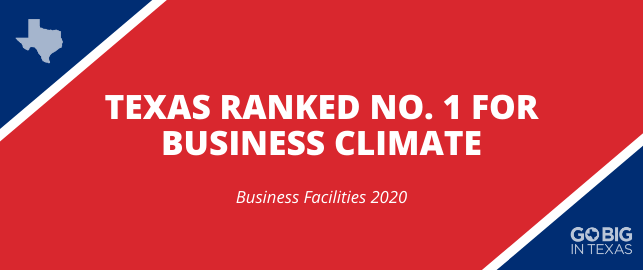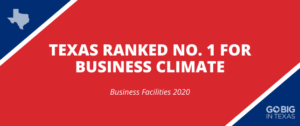 TINTON FALLS, NJ – Today, Business Facilities released its 16th Annual Rankings Report, with Texas leading as the state with the best business climate.
Texas, also ranked Business Facilities' 2019 State of the Year, adds this achievement to its unmatched portfolio of top rankings from the magazine, including a record-breaking four State of the Year awards.
"Texas has established its hegemony in an impressively diverse array of growth sectors," said Business Facilities Editor in Chief Jack Rogers. "A rapidly expanding skilled workforce, solid infrastructure, readily available renewable energy and a vibrant innovation ecosystem are just a partial list of the must-haves TX puts on the table for corporate site selectors."
He added, "If that's not enough to beat the competition, our friends in Texas will see your offer and raise it with lucrative incentives. When the governor reaches for the big chips in the Texas Enterprise Fund, it's usually time for the other folks in the game to fold 'em."
"Texas has built an unmatched economic environment that allows businesses to grow, innovate, and create more jobs for Texas workers. We have shown repeatedly that the Texas model of low taxes and smart regulations combined with our top-notch workforce is a winning formula for economic prosperity. As we respond to COVID-19 and revitalize the economy, we will continue to focus on strategies to attract more employers to our state and create economic opportunity for every Texan," said Governor Greg Abbott.
About Business Facilities
Business Facilities is a leading full-service media brand specializing in the site selection marketplace. Through a bi-monthly magazine, e-mail newsletters, a news portal, and its LiveXchange event, Business Facilities has created a dynamic community for C-level executives and economic development organizations.
Source