February 25, 2019
SF Business Times Exclusive: Texas Courts Bay Area Startups
<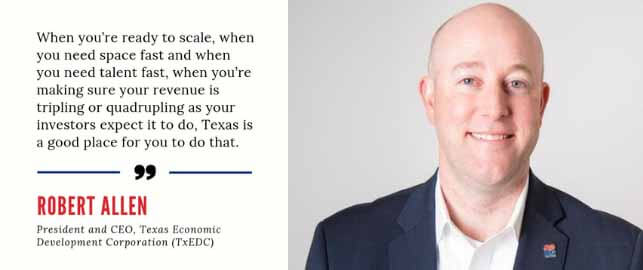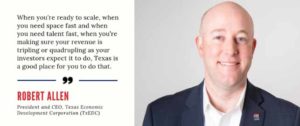 The San Francisco Business Times met with Robert Allen, president and CEO of Texas Economic Development Corporation (TxEDC), while he was in the Bay Area pitching the region's high-growth companies on the benefits of expanding in the Lone Star State.
After winning the headquarters of two Bay Area Fortune 500 companies, Texas officials traveled to California to win over the region's fast-growing small and mid-sized companies. Robert Allen, president and CEO of Texas Economic Development Corporation (TxEDC), met with the San Francisco Business Times to discuss the mission.
"Silicon Valley is almost impossible to compete with, and I admit that. It's very difficult to foster an environment that Silicon Valley has managed to create. What we think we provide is a value proposition — when you're ready to scale, when you need space fast and when you need talent fast, when you're making sure your revenue is tripling or quadrupling as your investors expect it to do, Texas is a good place for you to do that," Robert Allen told the San Francisco Business Times.
With the new federal tax law making it more expensive for residents to live in California, the prospect of companies moving out of the Golden State is a growing concern. San Francisco-based McKesson and Core-Mark Holding Co. recently unveiled plans to move their headquarters to Dallas. The conversation is shifting, according to Allen.
"The majority of businesses are familiar with the tax advantages, regulatory environment and things of that nature. No personal income tax is an easy message to spread, especially in a state like California," Allen said. "Now the conversation is on the quality of life aspects and what's available for an employee."
Allen also discussed Texas setting its sights on biotech. "Life sciences is an area for us with exponential growth possibilities," Allen said. "San Antonio is making a name for itself in life sciences, as is Houston."Allen pointed specifically to Texas Medical Center (TMC) in Houston and the new TMC3, a 35-acre development that will include six of the state's universities, large pharmaceuticals and life sciences companies all under one roof, "with a goal of collaborating around the tables and halls to cure cancer."
Allen told the San Francisco Business Times that Texas and its cities check in with companies picking Texas for corporate expansions or headquarters long after employers have made the move.
"You just can't think of the win, but you have to think of the win and the extra innings or the next iteration, because if you don't, somebody else will — and that 'somebody else' probably isn't from Texas," Allen said. "You have to think about the long game."
The delegation in California included representatives from Texas Economic Development Corporation, the Office of Governor Greg Abbott, BNSF Railway, The Borderplex Alliance, City of El Paso, City of Schertz EDC, Greater Houston Partnership, Irving Economic Development Partnership, San Antonio Economic Development Foundation and McKinney Economic Development Corporation.
Source